World-pharma.org is a store that sells a variety of generic and brand medicines but its specialty is Steroids and Hormones. Let's get inside World Pharma medicine shop to see its features and standing:
The message given on the front page of World Pharma, right on the top, declares that the store is very much back in action and operational, and the customers are being told to send a password resetting request to the site admin and get new passes. So, it appears that the e-pharma has encountered some technical issues and was down for a while. Although everything is good now at this e-pharma, I wonder if one can trust World Pharma with one's individual and credit card details because there might be lurkers trying to steal information here.
The topmost category at World Pharma is of Steroids, with brand names given under it. You can also find here Estrogen Inhibitors, Slimming medicines, Anti-Depressants, Water Retention Inhibitors, Erectile Dysfunction Medicines, and Baldness curing medicines, etc. You could also see the names of Asia Pharma and British Dragon listed prominently among other categories.
If you check the Erectile Dysfunction area, you can see here Viagra and Cialis, a brand medicine for former and the generic version for the latter. You get from here one pack of Viagra (100 mg x 4 pills) at the price of $80. But the Cialis equal is somewhat cheaper i.e., 10 tablets of 20 mg strength cost $40 only.
World Pharma used to allow customers to pay for their purchases here through these methods: Cards like Visa, MasterCard, Amex, MoneyGram, and Wire Transfer. But it has removed the Wire Transfer method from its approved payment list without any explanation.
All orders are shipped through global Airmail (unregistered). Buyers need to pay 18 Euros ($19.11) and if they are residing in Canada, USA, and Europe, these orders will reach them in 10-14 days. It's not mentioned what is the delivery time for other locations.
World Pharma has listed very limited communication options for a customer who wants to get in touch with it. There is a Chat option but it doesn't work. There are no contact numbers to call support department. Customers are told to sign into their accounts and email their questions to the administration of World Pharma from there. But visitors can send their questions through the site, and they will see the following status after sending their query: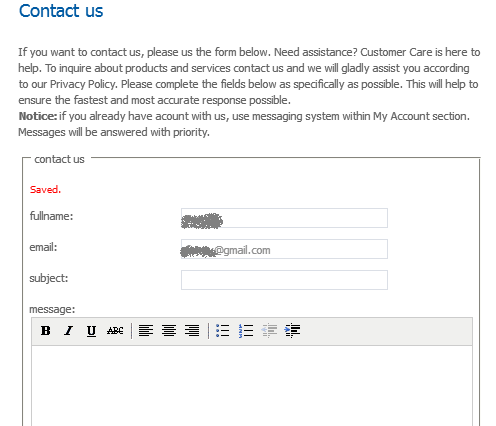 There is nothing written on World-pharma.org related to refunds or money back guarantee, so it appears the store doesn't offer them. Customers are, however, told to report non-delivery or damage shipment issues to the customer care of World Pharma.
World-pharma.org Reviews
One should never buy generic medicines blindly from online stores. It's always a good idea to check out what other customers have written about an online pharmacy at other places like forums, discussion threads, etc. When I checked out the reputation of World-pharma, I saw this:
A complaint regarding Asiapharma.com on Complaints Board (date not specified) has been lodged by a former customer called Nickn but he has clearly mentioned the name World-pharma and World-pharma.com as well in his post and has alleged that all these sites are related and are operated by the same people. He was "scammed" by World Pharma specifically out of a whopping amount of $974 plus shipment and never received anything. He calls World-pharma.org a "fraud" and scammer of "epic proportions" operating out of Bulgaria. There were as many as 40 reviews submitted under this complaint about World Pharma and its associated online stores and most agreed with the above-posted complaint. Here are some: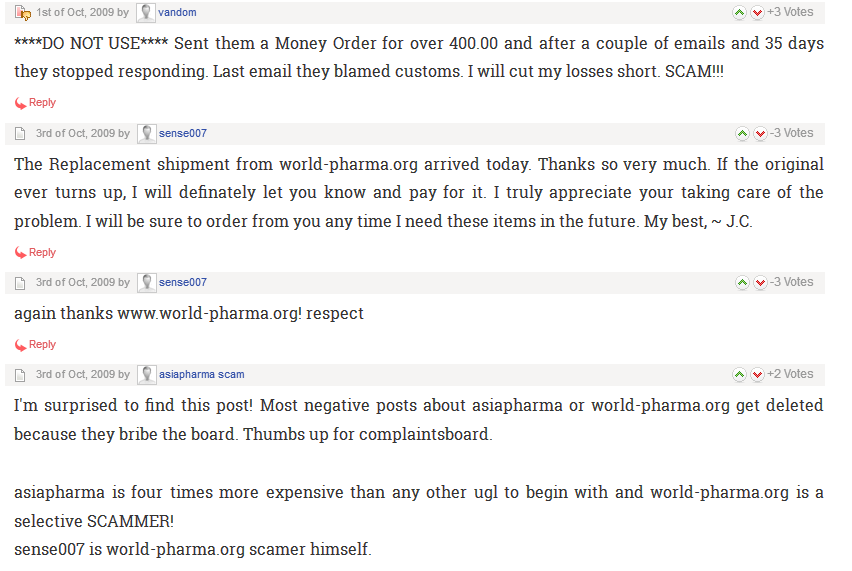 A user by the name Dr.S wrote on 30 September 2009 that the positive reviews found for World Pharma are written by the store itself and are fakes. He urged users to "not to waste their time or money" on it as it only "scam" people out of their hard-earned money. Another user called Vandom submitted a far serious complaint on 1 October 2009. He wrote that he was scammed out of $400 by them and stopped responding to him eventually. Therefore, he gives a "**** DO NOT USE****" status for it. Then you would find two positive reviews by a user called Sense007 on 3 October 2009, in which he had thanked World Pharma for his "replacement shipment" and he was thankful for the gesture of World-pharma.org of "taking care of the problem" which has made it earn his "respect". However, a detailed comment posted on the same date by the title 'Asiapharma scam' exposed the false nature of the two above-mentioned posts. This commenter was surprised to find "negative posts" about asiapharma or world-pharma not because they were false but because their corrupt owners mostly "bribe" others to get the negative comments removed. So, he gave Complaints Board a "Thumbs up" for letting truth prevail. As per his knowledge, World Pharma was a "selective scammer".
All these comments are enlightening, to say the least, as they have exposed the true nature of the e-pharma.
World-pharma.org Reviews 2016
My next stop was Scam Advisor and it pretty much confirmed these views.
According to the findings of Scam Advisor, World-pharma.org appeared to be working from Panama but its original physical whereabouts have been kept a secret. There are not many visitors to it and so it appears to be a site that cannot be trusted for carrying out transactions.
World-pharma.org Coupon Codes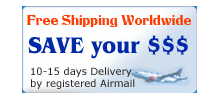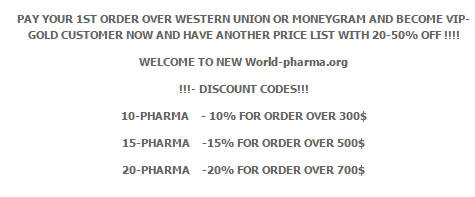 Some of the ways World Pharma is trying to win new customers and convince them to make large purchases here by these attractions: free shipment for all locations worldwide. Those who would pay for their initial orders through Western Union and MoneyGram would get even bigger discounts of 20% to 50%. A few discount codes are also advertised by World Pharma to get concessions of 10%, 15%, and 20% on orders that start from $300 and go up to $700.
Conclusion
World-pharma.org mainly sells steroids and anabolics. But the greater issue with World Pharma is the negative comments of its former customers that comprise all sorts of issues: sending spam emails, taking huge amounts of money from customers and not delivering their medicines, posting fake comments on forums, etc. There exists a lot of evidence that World-pharma and handful of similar sites are being run by Asiapharma.com and they belong to a notorious ring of scamming websites that commit frauds of epic proportions that is, asking customers to place huge orders and never delivering them their ordered medicines. Not only World Pharma gets a 1 star (poor) but it comes with the warning: 'Run in the opposite direction when you see this one'.