The store Top-online-pills.com is also called "Canadian Pharmacy", which is rather confusing since the store's domain states otherwise (Top-online-pills). Like the common offers from online drug dispensaries, TopOnlinePills offered products for various uses but the store specifically markets the products for male erectile problems (the famed Viagra, Cialis, and Levitra). TopOnlinePills did not post where its products come from—the "About Us" section of the store only focused on building up the store's qualities rather than stating facts for its actual operations. According to the store's limited information, TopOnlinePills is "the leader" when it came to mail order medications, and that the shop's goal was to provide medicines at "discount rates" to help them save more in cost.
TopOnlinePills sells both the generic and brand-name medications for various clinical conditions. These medicines, according to Top Onlin ePills, are all approved by the food and drug administration, even the generic ones. Unlike the other online stores, TopOnlinePills did not openly disclose where it sourced its generic meds or even where it ships all its items from. The only thing mentioned by the store was that it does not ask for any prescription from its buyers even for meds which actually required prescriptions.
TopOnlinePills offers a wide spectrum of medicines for almost any drug need, but the store listed a few of its bestsellers on a separate page on its website. Most of the products seen on the separate bestseller page included mostly meds for erectile dysfunction such as Viagra, Cialis, Levitra, and various generic variants, but the store also listed Doxycycline ($0.35 each), Clomid ($0.49 each), Amoxil ($0.44 each), and various others on its best -selling medications list. The shop, on the other hand, sold the generic impotence meds for as low as $0.67 per pill for generic Viagra Professional and at least $1.41 each pill for the generic Cialis Professional. These prices are for the bulk purchases for each product, which means that buyers can save more when they purchase more of the products in the store.
If I decide to order from TopOnlinePills, the store would make me choose between the regular shipping and the express shipping. The regular shipping fee for the items available in the store costs $9.95. The store has the faster shipping option, and this shipping option costs double the price of the regular shipping fee (store charges $20 for the expedited shipping option).
As for the payments, I saw that TopOnlinePills only accepted electronic checks and AMEX and VISA credit cards. Because the store abides by the international rules and regulations when it comes to the return of the products, TopOnlinePills does not accept product returns even if the products received by the buyers were defective or incorrect. However, TopOnlinePills e-store states on its store that the shop allows refunds and reshipments in cases of non-deliveries and receipt of damaged products.
I found out that Top Online Pills did not have its own live chat option, but the store offered up its phone numbers instead. The store may be contacted using its US number (+1-760-284-3222) and its EU number (+4420-3286-3820) for questions. If you're a bit shy to talk over the phone, Top Online Pills also offered an email function on its page, although the response may take 1-2 days.
Top-online-pills.com Reviews
Actual client reviews were unavailable for Top-online-pills, but the store posted several alleged "testimonials" on its consumer comment page. Of course, the store had good reviews from its "clients":
The store had positive comments from its buyers. For instance, John from Sweden stated that he was not "scammed" and the meds from Top Online Pills were effective. He even cited that he did not even have to forward his prescription in order to get his meds from the store.
Another client from the testimonials section, Nathan, declared that his orders arrived in 7 days. He also went on to say that he will endorse Top Online Pills to his friends.
Eric was also a happy customer due to the fact that the store was able to forward him his orders on time. The drugs were effective too, based on the buyer's comment.
However, though these reports were "nice", I can't stress enough that these comments were not entirely true since they only came from the store. Buyer reviews are more reliable when they are found on other platforms and not really on the store itself.
Top-online-pills.com Reviews 2016
I was thinking that maybe the store had more reviews for the present year, but I was wrong. There were still no "real" buyer comments available for Top Online Pills. Although this is the case, the shop had several third-party platform analyses for this website.
Top Online Pills scored a zero on Scamner.com and the analysis platform did not recommend browsing and buying from this online store. Also, besides the warning, Scamner intercepted reports of "scam" for Top Online Pills. The store was also identified to operate illegally and sell illegal products.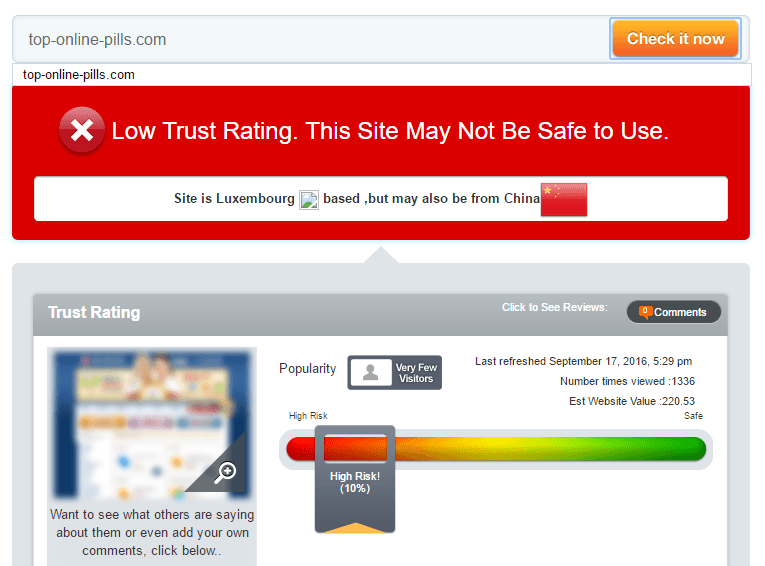 Scam Adviser, another platform with reports on website integrity, also ratedTop Online Pills with a low score. Out of the possible 100, the shop Top Online Pills was only given by the store with 10%. Top Online Pills was also detected to have only a few visitors for its previous years of service. Even Scam Adviser failed to detect the actual location of Top Online Pills, but the store may be located in either China or Luxembourg, according to the present Scam Adviser report.
Top-online-pills.com Coupon Codes
Concerning coupon codes, there were actually no buyer codes available on Top Online Pills. But, the shop had a few running promotions on its platform. Free pills are given away by Top Online Pills for every purchase, regardless of order quantity.
Besides the offer of free pills, Top Online Pills also had offers of free shipping for its clients, but only those with orders of $200+ worth of products.
Conclusion
Top-online-pills.com is another online store without buyer reviews. Although this store had good prices, I can't assure you that ordering from this store can give you a good buying experience. For now, I am rating this store 2 out of 5 because there were no complaints about the store (yet). However, since external platform reviews were not yet available for this shop, I can't fully endorse this store's use.