Generic online shops abound all over the internet. One of the online pharmacies which stocked numerous meds for various uses was the store Rxpills-online.com, which peddled generic counterparts for otherwise exorbitantly priced medications. Rx Pills Online was proudly announced that it only vended medications approved by the World Health Organization, which denoted the safety and the effectiveness of the medications. I read through the archives for Rxpills-online and the information somewhat implied that Rxpills-online was not a pharmacy, but rather an online brokerage service which links buyers to ground pharmacies vending generic medications from offshore locations. Rxpills-online.com did not have information where it's located and the e-store did not also make mention where the meds come from.
Today, Rx Pills Online is non-existent—it seems that the store was unable to pay for the maintenance of its domain name, and the domain "Rxpills-online.com" is now for sale. Data concerning the reason behind this store's closure or disappearance was unavailable, so it is hard to tell why Rx Pills Online stopped operating all of a sudden. Rx Pills Online only operated for 2 years, as the shop started in 2014, but closed in 2016.
Rx Pills Online did not differ much from other online stores because the drugs it stocked were similar with the usual internet drugstore staples. The drug lineup was absolutely predictable; of course, you can find Viagra, Cialis, and Levitra (medications for erectile dysfunction), although there were also other products on Rx Pills Online such as Lipitor, Zocor, Zyban, Zantac, and other products. As for the product prices, Viagra (which did not have a label for generic or brand-name) was sold at $0.61 per pill, Levitra was sold at $1.46 per pill, and Cialis was sold at $1.01 per pill. The other products were also as equally cheap, as Propecia/Finasteride for hair loss and benign prostatic hypertrophy was sold on Rxpills-online for only $0.48 per pill, and the cholesterol medication Lipitor was also available in the store for only $0.68 each. The prices, according to web archive for this store were 80% lower than the usual market prices for the products at regular pharmacies.
Clients were allowed to pay for the aforementioned items using their credit cards only, through American Express, VISA, and MasterCard. Rx Pills Online mentioned that its shipping was free of charge worldwide, with no hidden charges. Rxpills-online also announced that it offers an additional 10% discount for its returning clients, to keep savings at a maximum.
Rxpills-online.com Reviews
Rxpills-online did not have third-party buyer reviews but there was a section solely for client testimonials on the website. The comments below were only some of the examples of the buyer feedbacks posted on Rxpills-online site.
Peter Hans, one of the reviewers, mentioned that the products he received from Rx Pills Online were of great quality. He also commended the customer service from Rx Pills Online. As for his order, Peter said that the items arrived in a few days.
Brandon, another buyer, related how the customer support was helpful when his credit card was declined on Rxpills-online. Brandon spoke with the customer support representative regarding his concern and though he did not state whether the issue was resolved, his comment seemed hopeful and positive.
Michael, one of the store's clients, commented on how low the prices of the products on the site. Michael said that he was able to order two times from Rxpills-online and he received both orders without problems.
Roberto, the last buyer from our comments snippet, appreciated the support Rxpills-online gave him during his visit. He told in his comment that the shop's assistants were helpful when he needed information regarding his order.
However, although these on-site buyer comments were great to read, these comments were also found on identical or clone sites without any variation whatsoever. These comments may be copied, or Rxpills-online may be one affiliate marketing website for a larger online pharmacy. Whatever the reasons were for the repetitive reviews, they do not mean well for the credibility of the e-store.
Rxpills-online.com Reviews 2016
Other platform reviews for Rxpills-online.com were available, but not from buyers. Rx Pills Online did have results from analysis sites and here is one of the reports available for the website for the recent year: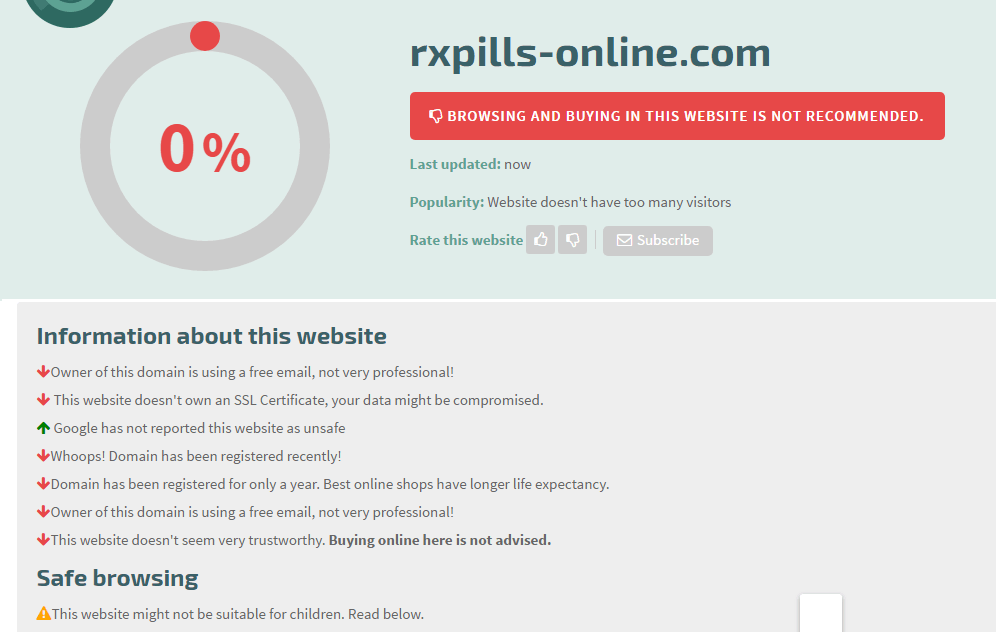 This result from Rxpills-online was overtly negative, as Scamner.com gave the e-store a zero rating for its integrity. According to the result, Rxpills-online did not have an SSL certificate and the domain was only registered for a year. Although Google has not yet listed Rxpills-online.com as an unsafe site, Scamner.com advised that buyers stay away from the store.
Rxpills-online.com Coupon Codes
Rxpills-online did not have buyer coupon codes available for the buyers, but the shop offered something that the previous clients would have appreciated:
Rx Pills Online offered free regular shipping for all the buyer orders placed on the store. The expedited shipping was charged $25, but for clients who were willing to wait, Rx Pills Online charged nothing for the slower shipping option.
Besides the free shipping, the buyers were also given 4 freebie pills for their every order. However, returning clients were given an additional 10% discount for their next orders.
Conclusion
Rxpills-online.com was an online store with good deals such as low prices, free shipping, free pills, and even additional discounts for its returning clients. The shop did not have reviews from independent online review platforms, but Rx Pills Online e-shop had testimonials posted on the store itself. However, these available online reviews were also found in identical websites, indicating that the reviews were not from Rxpills-online. The store now is non-existent and the domain Rxpills-online.com is now for sale, which means I can only bestow a low score of 1 out of 5 for the shop.