As the name implies, Remedymart.com aimed to supply buyers online with what they were looking for. That is provided what they wanted is a medical remedy for whatever condition they might have. However, it was very much short-lived in its operation. The internet vendor started its business in the year 2014, and even though one would have expected it to still be in the business now, it has stopped operating from the year 2016.
This is due to unknown reasons, even though Remedymart.com is still live on the internet.
Operating out of the USA, the internet pharmacy did provide a lot of remedies. The kinds of conditions that its pills addressed were, but not limited to, mental health, anti-viral, anti-fungal, anti-bacterial, antibiotics, cancer, erectile dysfunction and eye care medicine, to brush over a few. There was no main assortment of pills from the vendor. Even the ED packs on board didn't gain any special treatment as opposed to the others.
Looking at the prices, the generic Viagra is set with a tag of just $0.62 per pill. Nor far from it is the Kamagra Jelly which sells for just $1.43 on every pill ordered. Good price for a vendor that started so late after a lot of others. While there is no information provided on where the pills sold are coming from, there was a promise of FDA certification on all of the medicine sold.
There is no information on the kind of payment methods supported by the platform. With a poorly arranged FAQ page, there was surely a lot more information missing from this e-store. Looking around what is left of the website, it can be seen that credit cards were accepted for payment processing on orders. It looks like the vendor does not ship to any other location outside of the USA.
After the order has been confirmed (some 72 hours), the customer should start to expect their package in the space of 21 days. After this period, the said customer can then get in touch with the customer care agents if they are yet to get anything. Speaking of getting in touch, the only options available were the toll-free numbers provided alongside the generic email form. While it would have been nice to have a live chat support, there is no need for that now.
There is a cancellation policy in place which can only be effected within 24 hours of placing the order. It doesn't seem like they offer a money back on any other grounds. Customers are advised to not push for a moneyback program as this can lead to them being charged on counts of fraud.
Remedymart.com Reviews
The only user comments found for Remedymart.com on the internet is that on its personal testimonials page. A review left by a certain Allen Hall who lives in Maryland of USA praises the 'price and quality [which] makes [them] different from other pharmacies.'
Two years is surely a little time to have spent in business, but it should have been enough for at least, a single independent user review. Even though this from Allen is stunning, it cannot be admitted because it could have been manipulated by the vendor itself.
Remedymart.com Reviews 2016
Furthermore, the internet vendor is taken for some analysis runs.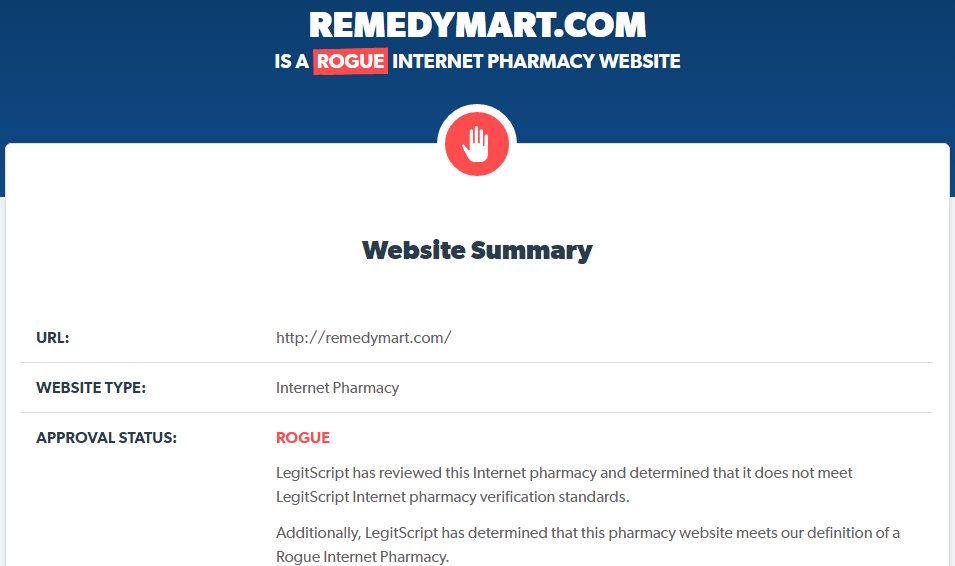 On Scamner.com, Remedy Mart doesn't leave the red zone with an 11% rating and advice that both browsing and buying is unsafe on the website. On the plus side, it is determined that the vendor does have a decent popularity on the internet.
LegitScript.com was not so subtle. Here, it was claimed that Remedymart.com does not and did not adhere to the safe practices expected of an internet vendor. Thus, it was labeled Rogue.
Remedymart.com Coupon Codes
There was a 10% promotion on Remedymart.com back then which gave the customers 10% extra pills on their next purchases.
This applied to all orders and volumes of pills order and creates room for a good extra savings option on the number of pills needed to be ordered.
Conclusion
If Remedy Mart had been in the business for longer, they might have earned a good reputation and even, done well in the business. Even though it looked as if this vendor was ticking all of the right boxes, a couple of years in the business doesn't speak good. What worsens the fact is that this vendor is now non-operational.
Getting rave reviews would have set it on the right track, but then, they weren't independent. No matter how appealing this internet vendor might look, Remedymart.com team doesn't deserve more than 1 out of 5 stars, and I'm surely not going to be ordering from a business such as this.