The online shop Ozpills.com is a haven for those who are looking to procure only drugs for erectile dysfunction. Ozpills.com is precise with its drug lineup and it only stocks products which are classified under the erectile dysfunction or impotence drug category (ED). Since this is the case, buyers can expect phosphodiesterase type 5 (PDE5) inhibitor products such as Viagra (Sildenafil Citrate), Levitra (Vardenafil HCl), and Cialis (Tadalafil) in the shop and none else. Ozpills.com only stocks generic drugs, so buyers can expect low prices for the PDE5 inhibitor medications intended for impotence; after all, Ozpills.com claims that it is "Australia's #1 Online Pharmacy".
Products such as local FDA-accredited generics for the famous (and expensive) ED brands from Pfizer, Bayer, and Eli Lilly can be found here, but in addition, there are also products for male hair loss (androgenetic alopecia) and augmented PDE5 inhibitor drugs or the ED drugs combined with other active pharmaceutical ingredients. Also, besides the regular hard pills, Ozpills.com also peddles "soft tabs" and "XL" versions of the impotence meds. Generic Viagra is offered at Ozpills.com for the US $2.50 each (the 100 mg pill) and the generic Cialis for roughly $5 each (for the 20 mg pill). These are not the cheapest prices around, but still considerably low compared to the nearly $100 per pill cost of the branded medications.
Ozpills.com only services buyers based in Australia, as the shop is only Australia-based. Although we know the location of Ozpills.com, the shop did not indicate when it started operating. We only know that the store ships products to Australian locations and it asks roughly $18 for the shipping of the products within the Australia and that Ozpills.com ships orders exceeding $150 for free. Payments for the items and the shipping cost should be sent to one of these acceptable payment methods: AMEX, Visa, and MasterCard credit or debit cards.
Apart from the low prices, Ozpills.com also boasts of its "discreet shipping" for its items. Also, due to the Ozpills.com capability to offer medical evaluations from their affiliated doctors, buyers are not required to provide their prescriptions online. But, patients who desire to forward their prescriptions may also do so as they please.
Ozpills.com is able to provide a money back claim (30 days after the receipt of the products) which enables the buyers to get replacements or refunds should find the drugs ineffective. This guarantee excludes the Ozpills.com Propecia (for male baldness) product since the Finasteride takes a long time to take effect. These were the ones discussed on Ozpills.com and no mention was made for shipping damages or product loss. For questions regarding this, you can reach Ozpills.com through its email function. Fishy enough, there were no phone numbers provided on the store.
Ozpills.com Reviews
Buyer reviews were posted on Ozpills.com and a lot of them were from buyers who've had successful transactions with Ozpills.com. Here are some of the client comments for the service given to them by Ozpills.com:

Henry, a buyer from Perth and cited that he was able to receive his Cialis pills in a span of 10 days. According to Henry, he's had negative encounters with international online drug pharmacies, so having a successful deal with Ozpills.com meant a lot to him.
Bill D from Melbourne also stated that he was able to get his pills from Ozpills.com. His comment also implied that he found the ED drugs effective and was totally satisfied with his purchase.
Besides these comments, there were more from Ozpills.com. However, these on-site reviews are not a hundred percent reliable due to the fact that they may be compromised by the store. Nevertheless, this store having good testimonials on its page is a good thing, as there are other stores which totally do not have buyer reviews, albeit we prefer more reliable reviews from buyer comments from third party websites.
Ozpills.com 2017 Reviews
The only reviews available for Ozpills.com for the recent year were reviews from websites such as Legit Script and Scam Adviser. Client comments were unavailable for the shop and the testimonials on Ozpills.com testimonial section did not have dates so technically we can't know when those reviews were actually posted.
According to Legit Script, Ozpills.com is a "Rogue" internet website which is unable to conform and submit to the rules and regulations of the proper internet pharmacy operation. Due to this, Ozpills.com was marked by Legit Script as a dangerous and an unreliable store.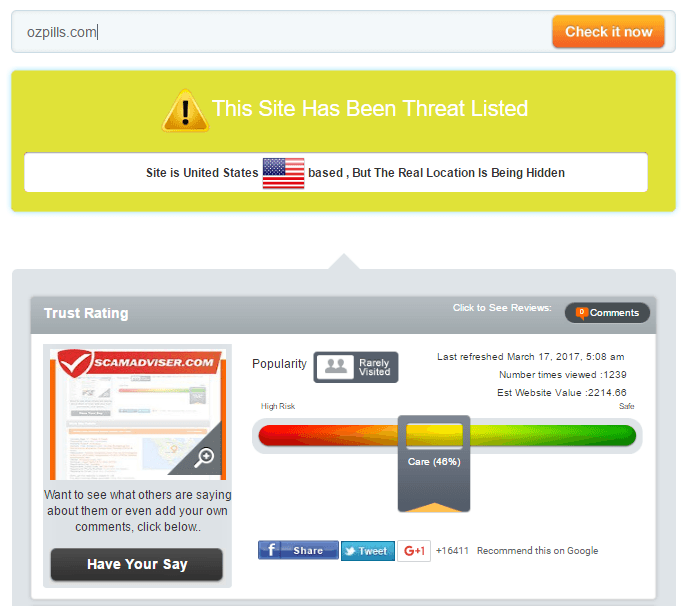 The same "rogue" status was given to Ozpills.com by Scam Adviser, which equated to a 46/100 rating for its reliability. According to the Scam Adviser result, Ozpills.com is already in its 9th year of service. Scam Adviser advises that buyers deal with the store carefully.
Ozpills.com Coupon Codes
No coupon codes exist for Ozpills.com so it's one less point for Ozpills.com. Although coupon codes are commonly given to buyers by other stores, these buyer codes are rather seasonal and can't be expected all year round.
What Ozpills.com offers its clients is a 15% discount for all the erectile dysfunction and premature ejaculation medicines, but for buyers with second orders only. New orders do not yet qualify for this discount, so buyers have to make second orders to avail of this offer.
Conclusion
If you are in Australia, you can consider getting your prescriptions at Ozpills.com due to its OK prices. However, we can only give the shop a 3-star (out of 5 rating) due to the fact that the store did not have external reviews. Since the shop offers reasonable products, you can consider buying from this store, although understand that transacting with online entities always includes risk.