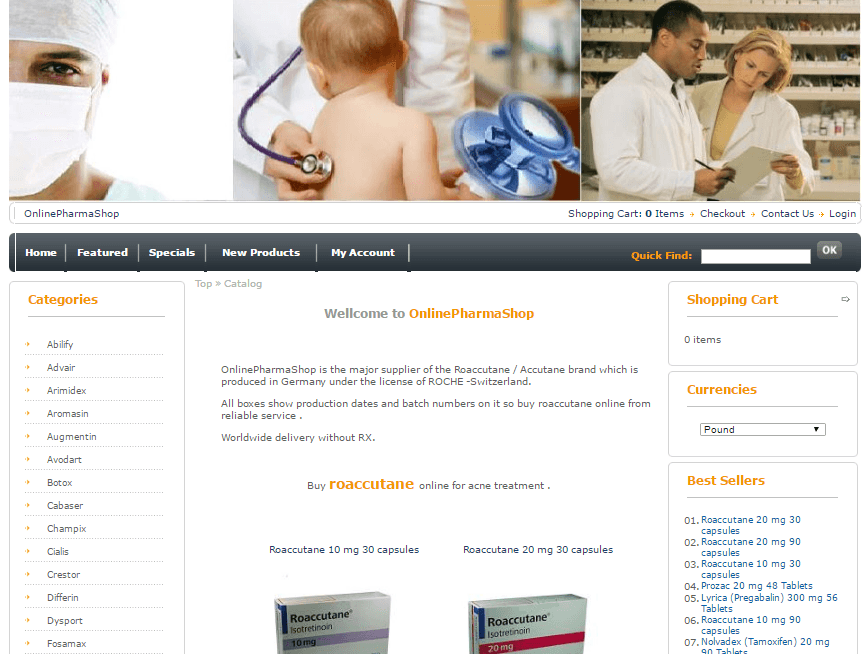 I am used to seeing online shops with erectile dysfunction meds as the common bestsellers, so for me, Onlinepharmashop.com is different due to offering the severe acne product, Roaccutane from Roche. Even though Roaccutane is not the only product contained by Onlinepharmashop.com, the acne medication is actually the focus of the store's operation. It is significant that Onlinepharmashop.com is offering only branded products for clinical areas of concern, where other stores usually offer clients the low-cost generics. Due to this, we can say that Onlinepharmashop.com is offering purely US FDA-credited drugs, as these brand-name products are all approved by the drug regulating institution.
There was no information on Onlinepharmashop.com concerning its start of operations or its location but it is no surprise since most of the online shops do not disclose the following information to the public for some unknown reason. There are no clues on the shop's specifics; Onlinepharmashop.com did not even have its own "About Us" page as it only had a page for its specials and featured products.
If you want to know what are the other drugs offered on Onlinepharmashop.com besides its Roaccutane stocks, Onlinepharmashop.com is also selling branded drugs such as Norvasc, Lipitor, and Xenical, and other drugs from big pharma manufacturers. Patients with the concern of finding impotence drugs will also be happy knowing that Onlinepharmashop.com also has erectile dysfunction drugs in stock. Buyers can have Pfizer-made Viagra, Eli Lilly-made Cialis, and Bayer-made Levitra on Onlinepharmashop.com. Although we all know that Roaccutane and these drugs I've mentioned are purely Rx drugs due to the risk entailed with their use, Onlinepharmashop.com still sells the branded drugs without asking its patrons to submit the necessary papers for these products.
Since we are mostly concerned about impotence meds and not really for Roaccutane, I checked how much Onlinepharmashop.com asks for its Viagra from Pfizer. I have discovered that Onlinepharmashop.com sells Viagra for a minimum of 4 pills and asks $29.75 per piece of the 100 mg drug. As for Cialis, Onlinepharmashop.com is also dispatching the drug for a minimum amount of 4 pills and asks for $23.72 per piece of the medication. These products may be bought using payments through e-checks, credit cards, and bank transfers, but the shop has the preference for the credit card options since Onlinepharmashop.com can process the orders faster when buyers pay using their credit cards.
It is not clear whether Onlinepharmashop.com is able to service clients from outside Europe as the shipping cost table of the shop is for EU clients only. For Europe customers alone, Onlinepharmashop.com charges anywhere from $8.31-29.1; the price depends on the buyer's order amount. The only time that Onlinepharmashop.com ships orders for free is in the case when a client order's total is higher than $332.
There are many things I wish Onlinepharmashop.com improves but the most puzzling of all is the shop's policy for returns or refunds. Onlinepharmashop.com did not mention whether it will refund buyer orders which were undelivered or were received in a less than pristine condition. Onlinepharmashop.com states that it only will replace or refund when the items the buyer receives have expiry dates within 6 months of receipt. You can contact Onlinepharmashop.com only by its email system, as no phone numbers or email or physical address details were disclosed on the shop.
Onlinepharmashop.com Reviews
Onlinepharmashop.com provided the buyers the capability to post reviews for the products which they were able to buy from the shop. There were reviews mostly for Roaccutane, but there were also some reviews for other products from the store. For now, let us look at one review for Roaccutane: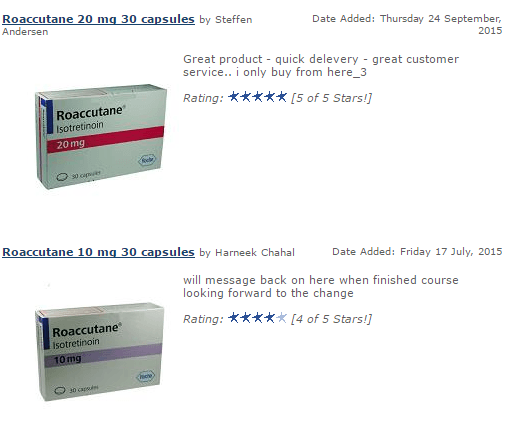 A buyer named Steffen Andersen gave his Roaccutane/Isotretinoin order 5 stars due to Onlinepharmashop.com's "quick delivery and great customer service". He posted this review on 2015 (September) along with other happy buyers of Onlinepharmashop.com. Steffen added that he only purchases his Isotretinoin from Onlinepharmashop.com, which is an indication of the client's satisfaction with the store's service.
Only valid consumers can rate the products on the shop but still, there is an existing risk of the reviews being untrue. More reliable sources for client feedbacks are those coming from independent sources such as forum websites or buyer review websites. However, the reviews from Onlinepharmashop.com are considerable enough, considering that there are other online stores without even these on-site reviews.
Onlinepharmashop.com 2016 Reviews
For the year 2016, Onlinepharmashop.com was able to have buyer comments. The review from Lee Mason, a regular of the shop was the most current among all the reviews of Onlinepharmashop.com. Here is what Lee thinks of this online drugstore: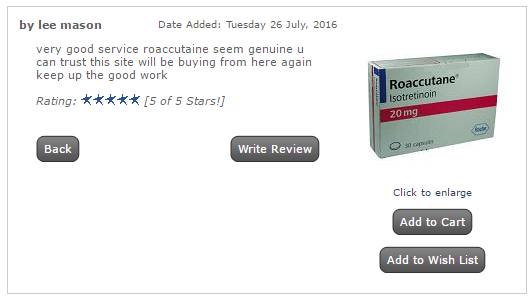 The five-star rating from Lee is an indication that he was content about how Onlinepharmashop.com handled his Roaccutane order. Based on his comment, we can infer that Lee was satisfied with the store service. There was a mention of the Roaccutane being authentic and also an intent of reordering from Lee's end.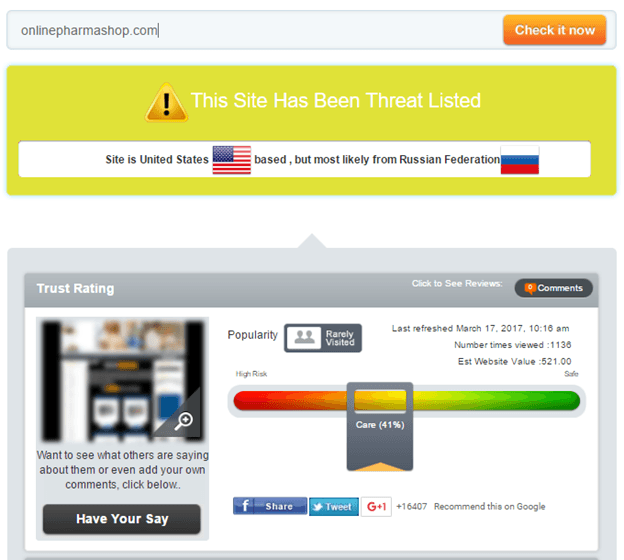 According to the result posted by Scam Adviser, Onlinepharmashop.com is a shop which should be dealt with care. Onlinepharmashop.com is a rarely visited online store with a 41/100 trust rating, which is not high. In addition, Onlinepharmashop.com is also mentioned as a "rogue" website on Scam Adviser, or a website which is noncompliant to the federal and international laws concerning proper/acceptable website operations.
Onlinepharmashop.com Coupon Codes
The only offer available on Onlinepharmashop.com is its complimentary shipping offer for buyers with orders more than $332, which is a large amount. Besides this offer, there is none else existing to benefit the buyers of Onlinepharmashop.com.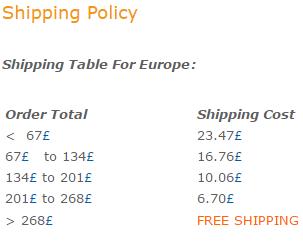 Other online shops are able to offer codes and discounts for their options. Onlinepharmashop.com does not have deals which help save buyers some money. However, I still think that the prices on Onlinepharmashop.com are lower than the ground pharmacy store prices, therefore the store does not think of offering further discounts for its brand-name products.
Conclusion
Compared to other shops offering branded Viagra and other PDE5 inhibitor drugs for erectile dysfunction, the prices on Onlinepharmashop.com are significantly cheaper (I think other shops offer double the cost of Viagra and Cialis on Onlinepharmashop.com). It is also interesting that the main product on Onlinepharmashop.com is Roaccutane and not really the generic ED meds.
I like how Onlinepharmashop.com had a review function for its buyers, but I wish to have seen more client comments for Onlinepharmashop.com from other platforms. I can only award 3 out of 5 rating to Onlinepharmashop.com. Since there is not much proof that Onlinepharmashop.com is trustworthy apart from its native reviews, I'd say deal with this shop with utter care.