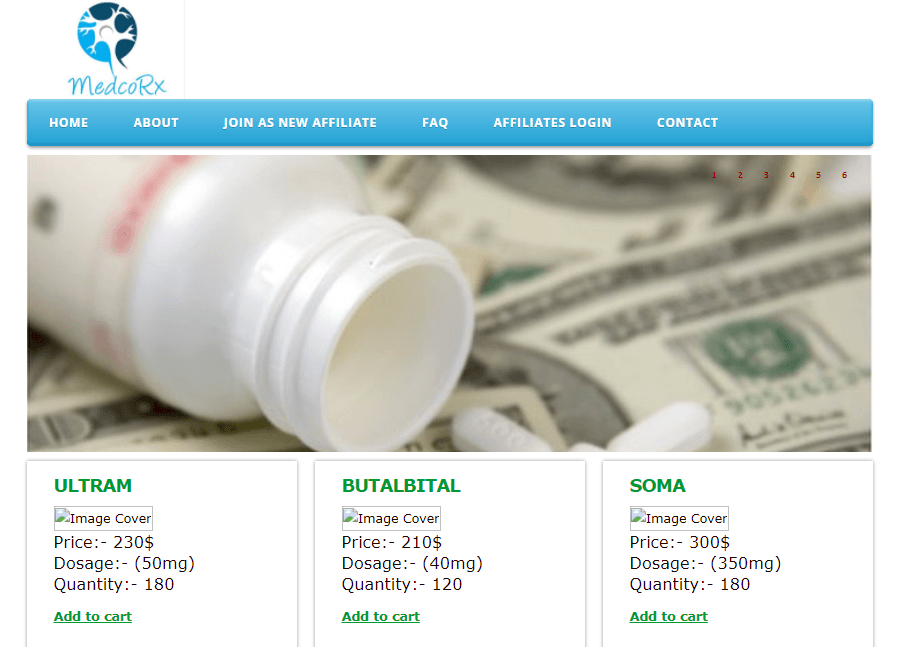 Medco-rx.com was an online pharmacy established to serve consumers with low-cost medications as prescribed by licensed physicians. The drugstore procured and shipped their products from several locations. Drugs were sourced from India, Romania, United Kingdom, and the United States. There is no information from the website if the products they sold were licensed and approved by the Food and Drug Administration (FDA) and other regulatory licensing authorities. The pharmacy offered various classifications of drugs but some of their most popular and best-selling items include Ultram, Butalbital, Soma, Viagra, Cialis, Ambien, Allegra, Amoxicillin, Buspirone, Ciprofloxacin, Robaxin, and Tizanidine. The cost of their erectile dysfunction (ED) drugs was very cheap and at par with other online health stores. The popular ED drug Viagra, with the generic moiety of Sildenafil Citrate, could be purchased from the drugstore for as low as $1.11 USD. Although there are some online drugstores that offer the same generic alternative lower than $1 USD per pill, the price given by Medco-rx.com was still lower compared to the innovator brand manufactured by Pfizer. The pharmacy did not specify if they required a physician's written prescription once the patient placed an order. I highly recommend seeking the advice of a medical physician prior to starting a new medication. This would properly orient patients regarding the safe, rational, and effective ways to maximize the goals of the medication regimen.
There were several payment methods accepted by Medco-rx.com. This includes Visa, MasterCard, Discover, American Express, and E-check. The pharmacy used a Secure Socket Layer on their website to ensure the safety of all personal and credit card information. Shipping options and fees were not discussed on the website. The expected delivery time for local orders was usually between 2-3 days while international orders took 7-12 business days.
If the product was found to be not in good condition or quality upon delivery, items must be returned within 30 days from the shipping date to avail of a full refund or replacement. A customer e-mail form may be filled up on the website to speak with a customer service representative.
Medco-rx.com Reviews
I tried searching for testimonials of previous buyers about Medco-rx.com. Unfortunately, there were no reviews found on the internet. This is a bad sign for an online business since this could probably mean that they were not able to gain the full trust of consumers and satisfy them as much for them to leave comments and good reviews about their good experience with the health store.
Medco-rx.com Reviews 2017
To fully validate the safety and reliability of Medco-rx.com, scamadviser.com was consulted about more recent information about the online pharmacy.
An inconsistency in the location was noted for Medco-rx.com. The native country was the United States but it was cited to be in Netherlands. Other websites gave the pharmacy a low-reliability rating and were found to be untrustworthy. Hence, scamadviser.com classified the website as risky. It is not safe to share personal credit card information even though they owned an SSL certificate. Patients should be extra careful when dealing with online businesses like this pharmacy.
Medco-rx.com Coupon Codes
Although the prices offered by Medco-rx.com were very competitive with other online drugstores in the market, there were no promos or discounts cited at the website. In order to gain popularity and the loyalty of consumers, online drugstores should always make time to give attractive offers and deals. Low-cost prices are nice, but regular incentives and rewards keep regular customers loyal to your business.
Conclusion
Medco-rx.com was a virtual drugstore established to supply low-cost medicines in the market of the online pharmacy industry. They offered low cost and attractive prices, especially for the popular ED drugs. The FAQ section of the pharmacy was not detailed and all information was not available. The FDA approval and other regulatory health licenses were not available on the website.
I am giving 1 out of 5 stars for Medco-rx.com because of the limited information gathered from its website. Although they offered a wide selection of drugs and the prices they gave were really cheap, the safety of their website could not be fully trusted. The website was found to be risky and it is not advisable to leave credit card information from their platform.
I do not suggest buying medicines from this online pharmacy. Consumers should note that apart from the prices and convenience, the safety and online reputation of an online pharmacy should be taken into consideration before doing business with them. There are a lot of choices in the market and one must be smart which one to choose from.