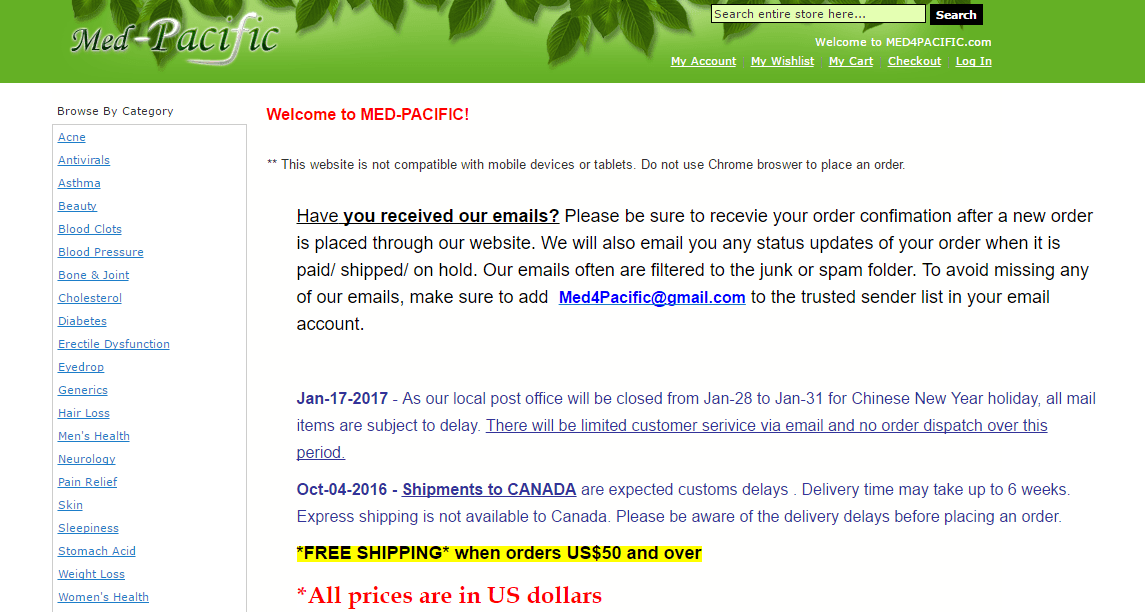 With the massive popularity gained by online pharmacies on the internet, I came across Med-pacific.net and searched for pertinent information about the online drugstore. Unfortunately, there is nothing much that could be extracted from the website. There is no FAQ section that would be useful for customers to know more about the pharmacy. A wide variety of drug categories was offered by Med-pacific.net. This includes acne agents, antivirals, asthma treatment, beauty products, blood pressure and cholesterol regulating agents, diabetes treatment, erectile dysfunction drugs, eye drops, hair loss supplements, pain relievers, sleeping aids, and weight loss supplements. The information regarding the manufacturers where the pharmacy procured their products and their corresponding regulatory licenses could not be found from the website. Moreover, the costs of their popular erectile dysfunction drugs are no longer available from the site. Since there is no FAQ section, I could not assess if the pharmacy required a valid prescription for all prescription drugs they sold. However, I strongly encourage all patients to consult a physician before starting a new drug. This is to ensure that the right dose and timing would be implemented for a safe and effective medication therapy.
The payment methods offered by Med-pacific.net could not be seen on the archived website. For the shipping options, the pharmacy delivered products using Airmail Service amounting to $10 USD. The standard waiting time was up to a maximum of three weeks.
The return or refund policy of the drugstore could no longer be viewed. However, just like most online merchants, the items must be returned within 30 days. The contact number and e-mail address that could be used to speak with a customer service representative are no longer accessible at the website.
Med-pacific.net Reviews
I was trying to search for feedbacks from previous buyers. Unfortunately, there are no testimonials available for Med-pacific.net. Customer reviews are important to build a solid online reputation for online pharmacies. They contribute to the make or break decision of first-time buyers if they would try the products and services offered by the pharmacy.
Med-pacific.net Reviews 2017
Since there were no customer feedbacks available for Med-pacific.net, scamadviser.com was used to cite more recent data.
The owner country of Med-pacific.net was being hidden but the website was found to be in the United States. A malware has been reported and other websites have reported this pharmacy as an unsafe server. Moreover, the pharmacy used a service to hide its real identity. Customers must avoid online drugstores doing such things because it is a common activity performed by online frauds and scammers. The inconsistency in the location was also suspicious and the site was classified to be risky. It is not advisable for consumers to share their personal information such as credit card details for online payments because the risk that the data might be compromised is really high.
Med-pacific.net Coupon Codes
Aside from the pharmacy's promise to deliver low cost but high-quality medications, there were also special deals given during their course of operation.
Customers ordering in bulk would get bigger savings. If the total amount of items bought reached $50 USD and above, shipping and handling charges shall be waived. This is a good deal especially for patients taking maintenance medications that need refills every month. Free shipping would cut a big chunk off the medical expenses of the patient.
Conclusion
Med-pacific.net was an online drugstore that offered a wide category of prescription and non-prescription drugs. The pharmacy is no longer operational and unfortunately, there is nothing much that could be extracted from the website retained. There is no FAQ section that a first-time buyer would normally check before deciding to buy from the online pharmacy.
I am giving 1 out of 5 stars for Med-pacific.net because of its unattractive website and the limited information that could be retrieved. There are a lot of online pharmacies competing in the market and it is very important for them to build user-friendly and informative platforms. There were also no customer testimonials cited for the pharmacy to prove the reliability and efficiency of the products and services they have provided. Moreover, the safety of their website is compromised. It was found to be unsafe and risky.
I do not recommend doing any transaction from a similar online drugstore such as Med-pacific.net. Customers must be vigilant and keen to details especially before deciding to buy from a certain online drugstore. The safety, reliability, and quality of the products must always be the top priority.