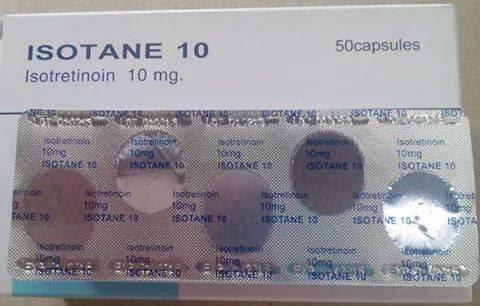 Isotane 20mg/10mg Tablet Isotretinoin is the brand of Indian pharmaceutical company Micro Labs limited. It is a generic medicine containing isotretinoin as an active ingredient. The product is available in 10 and 20mg capsules. Over the last four decades, isotretinoin has recommended itself as treatment of choice for acne vulgaris, being highly effective in cases of acne that have failed to respond to other therapeutical approaches [1].
Acne is one of the most common dermatological problem globally. It is a disease of aesthetic concern, as it affects teenagers and young adults very commonly, resulting in both physical and psychological traumas. It is a chronic disease of the skin and is difficult to treat due to its multi-etiological origin. Genetics is the major cause of acne, other equally important factors being the environment, diseases of other organs and systems, hormonal imbalance, and stress.
Isotretinoin has been effective irrespective of cause and duration of acne. Though the product is generally well tolerated, minor discomforts with the therapy are quite common. Most commonly being dryness of lips and other mucous membranes.
Isotretinoin is contraindicated in pregnancy as is teratogenic (that is it is toxic for growing fetus). There is a high rate of birth defects associated with the product.
About Micro Gratia (Micro Labs Ltd)
Isotane is manufactured by Micro Gratia, which is a subsidiary of Micro Labs limited. Micro labs Limited is one of the leading manufacturers of generic drugs in India. It was established in 1973. It is a multi-faceted company, having more than 9 manufacturing plants, Gratia being one of them. This sub-unit produces a wide range of products for dermatology, cosmetology, and trichology. Micro labs have a presence in several countries and have many overseas offices. The company employees more than 5000 highly qualified people.
Micro Labs Limited is one of the top 20 companies in India. According to company's website, some of their brands are leaders in cardiology, diabetes, anti-infective, ophthalmology, pain, etc. [2].
The company is also involved in the manufacturing of APIs.
Many of the manufacturing facilities of the company have been accredited by the leading regulatory agencies. As per information on the company's website, 4 manufacturing sites are approved by UK MHRA, 2 are approved by Canada Health, 2 are approved by US FDA, and another 2 by WHO [3]. From this list of approvals, one can say that Micro Labs products are at par in quality with their European or US counterparts.
Scientific Studies on isotretinoin
When it comes to treating acne, isotretinoin has revolutionized the therapy of one of the biggest problems in dermatology. It has also been shown to be quite useful in the treatment of rosacea. As noted in the clinical study by Watson KD et al. "Isotretinoin For Acne and Rosacea" that in last 30 years, clinicians have gained better insight into dosing of isotretinoin, thus preventing reoccurrences of acne and decreasing dose-related adverse events. There was controversy over mood disorders and inflammatory bowel disease being caused by isotretinoin, but latest research has disapproved these claims. With proper knowledge of possible adverse effects and teratogenicity, clinicians can help the patients to get best out of treatment [4].
During last four decades, dermatologists have tried various dosing strategies for isotretinoin to get optimal clinical results with minimum side effects. Standard dose for isotretinoin is 0.5 to 1mg/kg/day. In the clinical trial carried out by Dhaked DR et al. "A Randomized Comparative Trial of Two Low-Dose Oral Isotretinoin Regimens in Moderate to Severe Acne Vulgaris" author studied the clinical efficacy and tolerability of 20 mg dose regimen when given daily and intermittently. 240 patients took part in the study, and they were divided into two groups. First group was given 20mg isotretinoin on a daily basis, while the second group was given every alternate day. Therapy was continued for 24 weeks and had 12 weeks of the follow-up period. At the end of the trial, both groups responded well to the therapy with more than 90% showing acne remission. Though alternate day therapy was better tolerated than daily regimen, it was less effective in cases of severe acne. Hence author of the clinical trial concluded that patients with moderate acne may be given 20 mg isotretinoin on every alternative day, while severe cases need a daily dose of the drug [5].
Treatment of acne often involves prescription of long-term antibiotic therapy. In the review "Optimizing Non-Antibiotic Treatments for Patients with Acne: A Review," Canavan TN et al. recommend not to prescribe monotherapy of antibiotics and also discourages long-term prescription of antibiotics as resistant to them have become very common. In the review, it is strongly recommended to use non-antibiotic regimens for treatment and maintenance therapy [6].
The economical aspect of medical treatment is often neglected in clinical studies, but in practical remains one of the important non-pharmacological factors in any treatment. In one of the meta-analyses called "The Cost-Effectiveness of Isotretinoin in the Treatment of Acne. Part 1. A Meta-Analysis of Effectiveness Literature" Wessels F et al. studied all the literature and trials published since 1981 to find out the cost-effective treatment of acne. In the study is was noted that isotretinoin is highly effective both regarding the cost of treatment and clinical efficacy and was also well tolerated. Meta-analysis showed the cure rate of above 84% while relapse rate of around 20%. Optimal effect was achieved with a cumulative dose of above 120mg/kg [7].
Dyslipidemias and elevation of hepatic transaminases have been commonly reported in treatment with isotretinoin. But most of the clinical trials reporting these events had small sample size. In the study carried out by Zane LT et al. "A Population-Based Analysis of Laboratory Abnormalities During Isotretinoin Therapy for Acne Vulgaris" large sample size was used. The study involved more than 13000 patients aged 13 to 50 years. In the study, it was found that there was a cumulative increase of 44% in triglycerides from baseline levels, 31% for cholesterol, and 11% for transaminases. Abnormalities in hematological tests were uncommon and unrelated to the therapy. It was also noted that these changes in biochemical tests were transient and reversible [8].
Description and Mechanism of Action of Isotretinoin
Isotretinoin belongs to the retinoids family of drugs and is similar in structure to vitamin A. It has complex and poorly understood the mechanism of action. Isotretinoin is known to suppress excretion of sebum and prevent follicular keratinization, it also has the indirect effect of suppressing P. acnes bacteria. It is also believed to suppress prostaglandin E2 and collagenase, which results in the anti-inflammatory effect of the drug. All these effects together result in suppression of acne.
Isotane Effects for Acne, Scars
Isotane has isotretinoin as an active ingredient, the most effective drug till date for the treatment, long-term suppression, and prevention of relapse of acne vulgaris. It is also an effective treatment for rosacea. By suppression of follicular hyperkeratinization, it helps to reduce scars and stretch marks of skin. In low dose isotretinoin also have an anti-ageing effect and prevents wrinkles, though this is off label indication of the product.
Recommended Doses and Duration of Therapy
For optimal clinical effect and long-term remission of acne recommended dose of isotretinoin is 0.5 to 1mg/kg/day. It has also been shown by clinical trials that optimal effect is achieved at a cumulative dose of 120mg/kg. The dosing strategy has to be chosen for each individual patient, depending on the severity of symptoms, hormonal status, and other factors. The usual duration of therapy is at least 4 months.
Side Effects and Warnings
Most common side effects of isotretinoin are drying of nose, lips, ears and throat. Some people also experience thinning and breakage of hair. Rare serious effects are softening of bones, inflammation of pancreas and liver, and mood changes [9].
Due to teratogenicity, it is contraindicated in pregnancy or to someone planning to get pregnant.
Drug Interactions
Isotretinoin should be avoided with tetracycline or doxycycline and phenytoin as there is a risk of intracranial hypertension if taken with them. It should be prevented with drugs which are toxic to the liver. Alcohol consumption must be restricted too. Corticosteroids like prednisolone or triamcinolone should also be avoided as they may add to the bone softening the impact of isotretinoin, making bones brittle [9].
Customer Reviews
Customers are generally satisfied with the results of the product. Though from customer reviews, one can feel the fear regarding the side effects and length of therapy. As one of the customers from Cambodia wrote that dermatologist prescribed Isotane just for 2 weeks, so the client was worried if such short therapy will help in any way.
Another customer from New Zealand who has been on Isotane for 49 days, was quite happy and impressed by the results of product and she wrote in her comments "I'm on day 49 for Isotane and my acne is clearing really well. I do have red marks left over from the previous acne, but it's slowly fading away, and my skin looks way better than it was 49 days ago. I've heard that once you finish Accutane, the red marks disappear pretty quickly and for the shallow scars, its best to avoid using harsh cleansers and lotions as creams and peels for scars tend to be pretty harsh on the skin…"
From customers feedback, it may be concluded that it is absolutely okay to buy this product. The product gave the intended clinical results, and clients are happy with their newly found clean and clear skin.
Price, Available Forms, and Dosage
Isotane 10mg is available for 18 USD for a pack of 50 capsules, additional postal charges apply costing 0.55 USD for registered post and 1.10 USD for a parcel.
The product can be delivered to USA, Australia, Canada, Thailand, and New Zealand. The product is prescription based therefore supplier may ask to submit a copy of the prescription.
This product can be taken either as 10mg or 20mg daily or as prescribed by your treating doctor.
Conclusion and Rating
No doubt, Isotretinoin is the drug of choice for moderate to severe cases of acne. During four decades of clinical experience with the use of isotretinoin, one can say that though some side effects are quite common with this molecule benefits far outweigh those discomforts.
It has to be understood that acne is caused by various factors, so a person suffering from them requires different and individualized treatment approach. It is always wise to try with topical creams and short-term oral antibiotics If one fails to get the desired result than better to start isotretinoin.
There are several dosage strategies. One strategy is to take low doses like 10 or 20 mg daily for a longer period of time, and another strategy is to start with a dose of 0.5 to 1mg/kg/day. It has been shown in clinical trials that if the user wants full remission without relapse than he/she should take it for a longer period of time, 4 months at least for most cases. In some cases, one may be prescribed for a shorter period of time.
Taking into view the fact that isotretinoin is the most efficient treatment of acne till date and most side effects with the product are transient and reversible, the product can be given the rating of 4 on the scale of 1-5.
Isotane Wiki Facts
Brand: Isotane
Active Ingredient: Isotretinoin
Treatment: Acne
Manufacturer: Micro Gratia (Micro Labs Ltd) India
Country of Manufacture: India
Availability:  USA, EU, UK, Thailand, New Zealand ++
Reference List
Isotane. General information. Available from: ].
Micro Labs Limited. Company Overview. Available from: .
Micro Labs Limited. Regulatory approvals. Available from:
Watson KD, Miest RY, Tollefson MM. Isotretinoin for acne and rosacea. InSeminars in cutaneous medicine and surgery 2016 Jun (Vol. 35, No. 2, p. 79). Available from:
Dhaked DR, Meena RS, Maheshwari A, Agarwal US, Purohit S. A randomized comparative trial of two low-dose oral isotretinoin regimens in moderate to severe acne vulgaris. Indian Dermatology Online Journal. 2016 Sep;7(5):378. Available from:
Canavan TN, Chen E, Elewski BE. Optimizing Non-Antibiotic Treatments for Patients with Acne: A Review. Dermatology and Therapy. 2016 Dec 1;6(4):555-78. Available from:
Wessels F, Anderson AN, Kropman K. The cost-effectiveness of isotretinoin in the treatment of acne. Part 1. A meta-analysis of effectiveness literature. South African medical journal= Suid-Afrikaanse tydskrif vir geneeskunde. 1999 Jul;89(7 Pt 2):780-4. Available from:
Zane LT, Leyden WA, Marqueling AL, Manos MM. A population-based analysis of laboratory abnormalities during isotretinoin therapy for acne vulgaris. Archives of dermatology. 2006 Aug 1;142(8):1016-22. Available from:
Isotretinoin side effects and interactions. Available from: