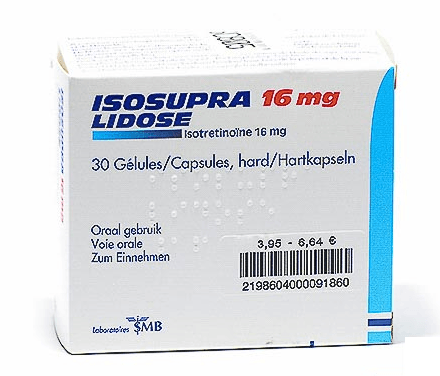 Isosupra 16 mg/8 mg isotretinoin is a drug used for treating acne, wrinkles, and other related skin problems. It is currently formulated in two different forms i.e. capsules and tablets. The drug must be kept in a closed container away from humidity and light. It must be kept away from the reach of children and pets. Everyone over the age of 12 and suffering from acne can use this drug to get rid of their disease. It must be stored at room temperature. People with high cholesterol and those taking vitamin A supplements must avoid taking this drug. It is also contraindicated in pregnancy and during lactation.
About SMB Laboratories
SMB laboratories were first established in 1953 with an intention of providing drugs in the local market. It was renewed in 1978 with a task of providing the market with innovative drugs in the field of oral medications. The company claims to follow the rules and regulations of GMP. The products of SMB Laboratories are also claimed to be approved by M.O.H of Yemen, Saudi Arabia, and Jordan.
The aim of this company is to become one of the leading pharmaceutical companies in Europe. It particularly focuses on drugs related to oral and pulmonary health. However, drugs related to other fields of medicine like antibiotics, CNS, dermatology, cardiology and much more. It also manufactures different vitamins and cough syrups. [1]
Scientific Studies on Isotretinoin
"A Review of its Pharmacological Properties and Therapeutic Efficacy in Acne and Other Skin Disorders" by A. Ward et al revolved around the role of isotretinoin, its properties, and effectiveness. Isotretinoin belongs to the family of retinoids and is largely used for the treatment of nodular and cystic acne. It has been found that it alters the lipid composition on the skin by reducing the size of sebaceous glands and the secretions produced by them. This alteration on sebum production also hinders the production of various bacteria that cause pimples. It was also seen that isotretinoin given in a dose of 1 to 2 mg per kg every day resulted in complete remission of acne from the skin and also provided long-term protection from the comeback of acne even after it has been discontinued. Isotretinoin can also be used in low doses for treatment of acne but low doses have been proven to cause less effective clearing after the discontinuation of isotretinoin and may also be associated with relapses of acne. It is not only effective in treating acne but also works to heal diseases like Darier's disease, rosacea, ichthyosis, folliculitis caused by bacteria and pityriasis rubra pilaris. It is also applied in various keratinizing disorders. Patients with these diseases have not been analyzed in follow-up treatments, however, it has been seen the prolonged remission with isotretinoin is not observed in patients suffering from these keratinizing disorders after the discontinuation of the drug. Isotretinoin does not completely heal psoriasis as etretinate does but etretinate cannot treat acne, unlike isotretinoin. Isotretinoin has also been proven to be effective in some cancers like squamous cell carcinomas and cancers of the basal cells. However, non-squamous and non-epithelial cell carcinomas do not respond to isotretinoin. Mucocutaneous adversities are commonly reported by the majority of the patients receiving isotretinoin but it seldom leads to discontinuation of the drug. Serum lipid profiles have also been reportedly disturbed in some of the patients. It can lead to toxicity of bones which might require withdrawal. It is also contraindicated in pregnancy because of its teratogenic effects. Hence, isotretinoin is an effective agent for acne if used properly and as instructed[2].
"Isotretinoin-Loaded Nanocapsules: Stability and Cutaneous Penetration by Tape Stripping in Human and Pig Skin" by Bettoni et al compared and discussed the penetration power of isotretinoin in two different forms on the skin. A comparison of penetration power of poly(ε-caprolactone) nanocapsules loaded with isotretinoin (GEL-NCISO) to isotretinoin in free form (GEL-FREE) integrated into hydrogels by the process of tape stripping in skin excised from human and that of a pig. With the help of multiple light scattering processes, the stability of isotretinoin in nanocapsules and nanoemulsion were compared. Photostability was also measured for the two. Isotretinoin in both free and bound forms was applied to the skin of pig and human. Penetration in both forms of isotretinoin was also assessed by the process of Franz diffusion cells. Isotretinoin in nanocapsules was found to be suitable as per its physical and chemical properties for administering it topically. It showed to be physically stable for two months both under UV radiation and at room temperature. Via tape stripping process carried out in vitro, it was seen that isotretinoin did not reach to its receptors within 8 hours in both human and pig's skin. Nanoencapsulated isotretinoin penetrated into stratum corneum of both types of skin in increased quantities. It was also seen that isotretinoin in both forms passed more easily through pig's skin as compared to human skin. It was also seen that isotretinoin penetrated in equal amounts in both types of skin, however, different amount of drugs reached stratum corneum of the both skins. From the observations recorded, it was inferred that skin of a pig is a suitable medium for making predictions regarding the penetration of isotretinoin through human skin in in-vitro studies. [3]
Description and Mechanism of Action of Isotretinoin
Retinoids such as isotretinoin help maintain skin in a normal condition by controlling the gene switching and directly implementing their effect on the differentiation of keratinocytes. Isotretinoin also reduces the production of sebum by bringing about a decrease in the size of the glands producing it. It also reduces the number of bacteria colonized in the ducts of these glands and on skin. It also inhibits the chemotactic response of the neutrophils and hence, reduces inflammation. [4]
Isosupra Effects for Scars and Stretch Marks
The effectiveness of Isosupra Lido can be determined by comparing the before and after effects of using this drug. It has isotretinoin in its composition that actively fights to reduce pimples from the skin. Not only that but it also fades out the scars left behind by these acnes. Wrinkles and other signs of aging can be gotten rid of by simply applying isotretinoin to the affected areas. The clinical benefits of isotretinoin also extend to treating stretch marks, rosacea, folliculitis and many other diseases as prescribed by a doctor. [5]
Recommended Doses and Duration of Therapy
Isosupra is to be taken via the mouth. The capsule or the tablet is to be placed on the tongue and must be swallowed right away using water or any other beverage. It must not be sucked, crushed or chewed for it might cause irritation in the throat. It is to be taken regularly as instructed by the doctor for at least 4 months to get the desired results. [6]
Side effects and Warnings
People using Isosupra can suffer some side effects of different systems of the body. These include a headache, nervousness, and dizziness. In every rare cases, depression, and suicidal thoughts might develop in the patient. Mucous membranes of the body might become dry and eyes might suffer from conjunctivitis. Nausea and vomiting along with fever are also reported in some cases. Skin become sensitive to sunlight and visual disturbances are reported. Bleeding from nose and rectum may also be observed. [7]
Drug Interactions
Patients who have been prescribed Isosupra Lidose by their dermatologists must tell their doctors about the complete list of products they are using since this drug is responsible for interacting with different drugs. These drugs may include several prescription drugs, herbal products and over the counter drugs as well. Isosupra must not be used along with vitamin A tablets or supplements as it can lead to worsening of side effects. Steroids such as prednisone and prednisolone must also not be used because they have the capacity to interact with this drug causing different bone diseases. Medicines used for controlling seizure attacks like Phenytoin must also not be used along with Isosupra. Tetracyclines such as demeclocycline and doxycycline cause brain swelling and intracranial hypertension in patients using Isosupra. [8]
Customer Reviews

Isosupra has a number of reviews regarding its working from the customers who used it. A customer shared her review under the name of Wildflower regarding the use of Isosupra. She had been using this drug for two weeks now and reported no visible remission in her acne though she did mention that her body was "starting to feel like she was taking the medication". She also shared about a few side effects that came along with this medicine including "dry and sensitive skin".
She further said how the drug had made her hair dry as well. She also reported a strange change in her "body odor" and did not know whether Isosupra was behind causing this. She ended her review by saying that she was still "energetic" and was hoping something good out of this drug.
Another customer named Maxje told in his review that he was not experiencing any "big changes" in fact Isosupra made his acne worst. This was probably because of consumption of alcohol that he experienced this worsening. He mentioned that he was not particularly "confident" about this drug, however, he hoped for a beautiful skin one day.

One of the customers also mentioned about having "accelerated heart beats" only after consumption of two pills of Isosupra. Looking at the customer reviews, it can be concluded that this drug has no particular surety about its efficacy. Hence, it is better to stick to the conventional and effective drugs rather than trying this one.
Price, Isosupra Available Forms, and Dosage
Isosupra manufactured by SMB Laboratory is available for purchases on different online drugstores. It is available in capsule form with 16 mg potency. These capsules come in a pack containing thirty units. Price per unit of Isosupra is 23.34 US Dollars.
Isosupra 16 mg is not available for shipping to other countries of the world like America, Canada, and Australia. It is manufactured in Belgium and is currently available for delivery to different areas of Belgium only.
Isosupra is available in two different formulations i.e. capsules and tablets. It has 8 mg or 16 mg of isotretinoin in a single capsule or tablet. The standard dose of isotretinoin is 0.5 mg per kg to 1 mg per kg for a single day. However, it can be increased or decreased according to the patient's weight or his general health.
Conclusion and Rating
Isosupra Lidose is an expensive drug with no proven therapeutic effects. 16 mg of isotretinoin enclosed in a single capsule is priced at a very high rate according to me and it might not be an affordable therapy if continued for months. The majority of the customer reviews were also not suggestive of the exact effects produced by this drug. I noticed that most of its customers were confused and still on hold while waiting for the results. Also, side effects of this drug were also emphasized upon in many reviews given by the customers. I was also not able to find any store that delivered it to different areas internationally so acquiring this drug is also a challenge. Considering all these points, I would say that it is better to stick to conventional and effective drugs available for acne rather than choosing Isosupra blindly. I will give it 1 out of 5.
Isosupra Wiki Facts
Brand: Isosupra
Active Ingredient: Isotretinoin
Treatment: Acne
Manufacturer: SMB Laboratories
Country of Manufacture: Belgium
Availability: USA, EU, UK, Belgium, Lebanon
Reference List
History [Internet]. Smblab. Available from:
Ward A, Brogden RN, Heel RC, Speight TM, Avery GS. Isotretinoin. Drugs. 1984 Jul 1;28(1):6-37. Available from:
Bettoni CC, Felippi CC, de Andrade C, Raffin RP, Jager A, Guterres SS, Costa TD. Isotretinoin-loaded nanocapsules: stability and cutaneous penetration by tape stripping in human and pig skin. Journal of biomedical nanotechnology. 2012 Apr 1;8(2):258-71. Available from:
Vitamin A [Internet]. Wikipedia. Available from:
Isosupra lidose [Internet]. Gmedication. Available from:
Isosupra lidose [Internet]. Rxanalogusa. Available from:
Oasosbera to Widdows [Internet]. Altibbi. Available from:
Isosupra Dosage [Internet]. Ndrugs. Available from: