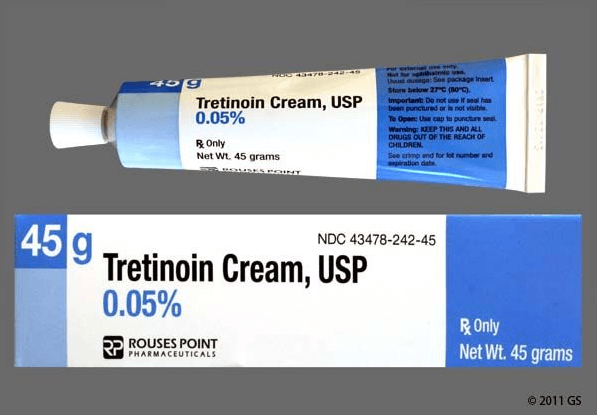 Comedolytic Cream is a topical agent consisting of 0.025 percent of isotretinoin in its formulation. The drug is used to treat a lot of skin disorders. It fights acne to remove it along with the scars that it brings along. It is claimed to lighten the skin and get rid of thickened skin as well. People experiencing signs of aging like wrinkles and those who want their dark spots to fade may find this drug as an effective remedy. In short, it heals the skin and helps getting rid of damaged one. The drug is available in a cream formulation that comes in a form of a tube. It should always be used after consulting with the doctor properly. It should not be used in children younger than 12 years. Use of Comedolytic Cream should be avoided on sun burnt skin or skin suffering from eczema. The drug is meant to be used on the external surface of the skin only. The cream should always be checked for its expiry date before applying since an expired cream can lead to various side effects.
About Fem Care Pharma Limited
Established in 1982, Fem Care Pharma Limited is a company that deals in the manufacture of a lot of drugs related to healthcare. The company claims to have employed over 500 workers that have been assigned different tasks to ensure the production of premium quality drugs. Fem Care Pharma Ltd. is based in Maharashtra, India.
The company deals in a variety of pharmaceutical products along with cosmetics and herbal products. Other products manufactured by it include skin care products and products related to hair. The company takes pride in some of its unique products that include Manexil Gel, Jula Aloe Hydo Gel, Aloderm, Uproot and Actival Granules. The specialty of Fem Care Pharma Limited lies in the field of hair and skin care products, though. [1]
Scientific Studies on Isotretinoin
A research titled as "Depressive symptoms and suicidal ideation during isotretinoin treatment: a 12-week follow-up study of male Finnish military conscripts" by LMH Rehn et al studied the link between isotretinoin and development of depression. For this demonstration, volunteers were selected from Finish military base. 135 people were selected who were suffering from acne problem. These people were given isotretinoin for about 12 weeks in order to study changes in the mental health. 126 of these people finished the follow-up study. Beck Depression Inventory (BDI) was considered as a scale to check depression in these patients. This check up study for depression took place just before starting the experiment, during 4th to 6th week and later between week 10 to week 12. It was seen that the initial BDI score that was recorded at the start of therapy reduced further with the passage of time and finally dropping from 3.0 to 1.8. BDI scored also declined in patients suffering from depression but this declination was not significant. At the start of therapy, about 17 people shared about their suicidal tendencies. At the end of this therapy, the number had dropped to 9. Even during follow-up treatment, no suicidal case was reported. The study concluded that isotretinoin does not cause the development of any depression. It is also not related to suicidal tendencies in patients. Mood alterations can be considered as an effect of isotretinoin which can be regarded as idiosyncratic. [2]
"Changes in Plasma Cholesterol and Triglyceride Levels After Treatment With Oral IsotretinoinA Prospective Study" by
Description and Mechanism of Action of Isotretinoin
Isotretinoin chiefly works by increasing the turnover rate of the skin cells. This means that more cells are being formed and lost at the same time implying the fact that the process of regeneration is speeded up. It stops the formation of comedones in the skin by controlling the keratinization of cells of skin as well. It also brings about a reduction in the size of the sebaceous glands by a similar mechanism. Together, all of these events lead to a resolution of acne and other problems like pigmentation, patchiness, and wrinkles. [4]
Comedolytic Effects for Acne and Wrinkles
The comedolytic cream has been implied to treat a lot of skin disorders. Because it consists of synthetic derivate of Vitamin A, it is considered to be an effective remedy to get rid of nodular cystic acne. It not only fights the current episode of acne but also ensures that the user does not experience it in any relapsing forms. Because isotretinoin has a direct effect on the collagen material of the skin, it is also used to combat signs of stretch marks. These include getting rid of wrinkles and scars in order to get a glowing and younger looking skin. It also fights against patchy skin disorders and makes sure that no dry patch is left behind on the skin of the one using Comedolytic Cream. Skin shows visible before and after effects once this cream has been applied for regular intervals. In rare conditions, it is also used for the treatment of certain cancers such as cancer of the white blood cells also known as leukemia. [5]
Recommended Doses and Duration of Therapy
It is recommended to wash the face and any other area where the product is to be applied. This should be done using any mild cleanser and warm water. The area should be patted with fingertips until the applied cream dries. Rubbing and using a sponge for this purpose is not recommended. Users must wait for about half an hour before applying the product in order to let the skin dry completely. A suitable amount of cream should be applied to the area. Thick layers should be avoided. It must be gently absorbed in the skin. It is usually recommended to apply once daily at bedtime. The dose can, however, be varied depending on the patient's tolerance. Overdose should be avoided. [6]
Side effects and Warnings
Comedolytic cream is used externally on the surface of the skin. Therefore, side effects associated with the use of this drug are mostly limited to the external surface of the skin. The user can feel a sense of stinging at the site where he applied the cream. The area might inflame and show redness. There can be a feeling of itching which is restricted to the area of usage. The skin might start peeling and flaking off. Contact dermatitis can also occur as a complication of using Comedolytic Cream. Pigmentation of the skin might also occur. Depending upon the skin type and the complications involved, skin can become either hyperpigmented or hypopigmented. Crusting and edema have also been reported by many patients. The user might also feel heat in the area where the product is used. Erythema is a commonly reported side effect. In severe form of hypersensitivity, hives can also be found on the skin. [7]
Drug Interactions
Comedolytic Cream consists of isotretinoin. Isotretinoin has a potential to interact with various drugs, affecting their absorption, working, elimination and other pharmacokinetic properties. When taken along with minoxidil, the absorption of minoxidil via the skin is said to increase due to isotretinoin. Anti-fibrinolytic drugs, when taken in combination with isotretinoin, are said to produce various bleeding disorders that might lead to complications related to thrombosis. The flaking property of agents such as benzoyl peroxide, resorcinol, sulfur and salicylic acid is believed to increase due to the action of isotretinoin. Various drugs like tetracyclines, sulfonamides, thiazides, fluoroquinolones, etc are termed as agents that make the skin sensitive to light. Isotretinoin when given along with any of these increase photosensitivity to a great extent. Tetracyclines also tend to increase intracranial pressure in combination with isotretinoin. [8]
Customer Reviews
While checking for feedback reviews made by the customers for Comedolytic Cream, nothing could be found. A total lack of customer reviews gives an impression of either one of the two things. First, the drug is a scam and the second being not efficient enough to have actual customers. Whatever is the reason; such drugs should never be used without getting a confirmation from someone who has actually used it. Hence, Comedolytic Cream should not be used as not enough information is available about it the internet to render it a safe drug. Customers should switch to an alternative safer and authentic to ensure guaranteed results in improvement of their acne.
Price, Available Forms, and Dosage
Comedolytic cream can be bought in the form of c tube. Each tube contains about 20 g of the drug in the form of a cream. It has 0.025 percent of isotretinoin in it. It is priced at 1.11 US Dollars for purchase.
No information could be extracted about Comedolytic cream being sold online. Also, no website was found where online shipping service for Comedolytic Cream was being offered. This implies that this cream is currently not available online for customers residing in other areas like Canada, America, and Australia.
Comedolytic Cream is formulated using 0.025 percent of isotretinoin in it. A doctor should be consulted about the use of cream. Generally, 1 mg per kg of isotretinoin is sufficient for a day. The cream can be applied once or twice. An overdose must be avoided.
Conclusion and Rating
Comedolytic Cream is a cream containing isotretinoin in a mild form. I found it effective not only for acne but also for wrinkles and other related problems. It was just like other alternatives for acne in every other aspect. The price of this drug is quite low which makes it quite affordable. Despite resembling other drugs, what Comedolytic Cream lacks is the presence of customer reviews. Since customer reviews serve as a backbone in making any decision about using a particular drug, this is a huge drawback. Also, the availability of this cream is also an issue. I cannot order this online and there is no guarantee to whether I can get it from a local market or not. I am also not sure if this cream is going to work just like it claims to do. It is also not known if this drug is approved by the FDA or any other drug regulatory body. Therefore, I am still skeptical about buying this cream just because it is cheap. I would give it 2 out of 5. Because there are so many other drugs proven to be effective for acne in the market, this drug would not be getting my recommendation that easily.
Comedolytic Wiki Facts
Brand: Comedolytic
Active Ingredient: Isotretinoin
Treatment: Acne
Manufacturer: Fem Care Pharma Limited
Country of Manufacture: India
Availability: India, USA, UK, EU
Reference List
Company Introduction [Internet]. Fem Care Pharma Ltd. Available from:
Rehn LM, Meririnne E, Höök‐Nikanne J, Isometsä E, Henriksson M. Depressive symptoms and suicidal ideation during isotretinoin treatment: a 12‐week follow‐up study of male Finnish military conscripts. Journal of the European Academy of Dermatology and Venereology. 2009 Nov 1;23(11):1294-7. Available from:
Zech LA, Gross EG, Peck GL, Brewer HB. Changes in plasma cholesterol and triglyceride levels after treatment with oral isotretinoin: a prospective study. Archives of dermatology. 1983 Dec 1;119(12):987-93. Available from:
Retin-A [Internet]. rxlist. Available from:
Comedolytic Skin Cream [Internet]. tabletwise. Available from:
Tretinoin (Topical Route) [Internet]. mayoclinic. Available from:
Comedolytic Cream [Internet]. medicineindia. Available from:
Comedolytic Cream 20gm [Internet]. medidart. Available from: